Expert Witnesses Depositions & Trial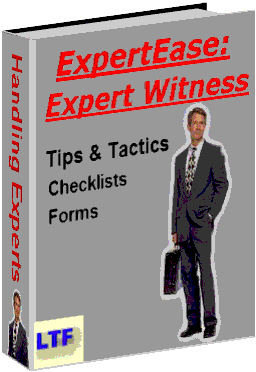 ExpertEase™
Experts, and the checklists and legal forms to handle experts well, are important in depositions, settlements, and trials. Excellent trial lawyers handle experts better than the run-of-the mill attorneys can do. If you have an expert witness in your case, here are checklists and forms to keep you doing better than your opposition. This is our group of forms we call — ExpertEase™!
Expert Witness Deposition Checklists, Forms, and Trial Tactics. Text, outlines and legal forms that involve the use of experts in litigation.
The ExpertEase™ section of legal forms does not involve the handling of medical personnel or the testimony medical experts. Tips, forms, outlines, and checklists for testimony of medical experts are located here.
Why and what to ask. A law summary report plus a general outline checklist that gets you started on most non-medical expert depositions.
Law summary report plus checklist from for your trial notebook.
Free Form! This one page form is designed to be placed in your trial notebook, ready for those times when you need to build a cross-examination quickly during a deposition or trial.
You know you need a bulletproof, inclusive, "they can't evade this", demand for those files and other items you need from that adverse expert.
Rule 26 and 45 combine to give you power, if you use the paragraphs of the Advanced Subpoena Duces Tecum.
Applicable when the expert's deposition is videoed.
Send to your expert before he/she writes a report. A disclosable communication in some jurisdictions, but it's crafted to help, not hurt you, before a jury.
Law summary report plus a form order to submit to the court.
Free Form! Prepare your expert witness to answer three ultimate questions in most negligence cases.
This ExpertEase™ section of the products of LawyerTrialForms™ involves (1) expert witness question checklists and advice to give experts, for lawyers to use in preparation of their expert witnesses for direct or cross-examination in depositions and trials, and (2) advice and materials regarding admissibility of the expert's opinion into evidence, and (3) form questions outlines that can be used by attorneys as their checklists of questions to ask experts. Our ExpertEase™ legal forms, tips and tactics articles, deposition and trial questions outlines, motions and checklists zero in not only on the expert issues in examination of experts, but also on the items you need to convince the judge or jury.