Motor Vehicle Accident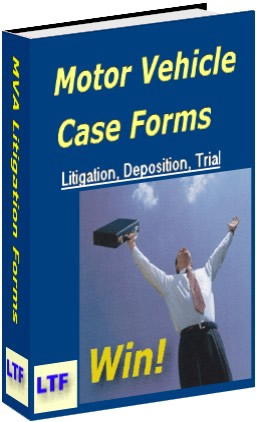 Motor Vehicle Accident (MVA) Case? Read descriptions of our deposition outline question checklists and other forms for discovery and trial.
Our legal forms for MVA ("motor vehicle accident": includes car, truck, auto, motorcycle, train-crossing, highway, pedestrian) include not only deposition and trial questions outline checklists, but also demands for production, requests for admission, eDiscovery litigation hold letters, plus also tips and tactics for investigation, discovery, and trials, and more!
If you are a lawyer with an MVA case, you will benefit by having several of our MVA forms always available for your use. The following are nine of our popular forms used in motor vehicle accident liability cases. (Scroll down for descriptions of each of these customer favorites.)
"Your forms were great. They were not only a timesaver, but a lifesaver! Thanks again." Patrick M. Kiernan, a well-experienced trial attorney of St. Louis, who was in a spot where he had only an hour to prepare for a deposition!.
This is a pattern deposition question outline for both plaintiff and defense attorneys, and also their legal assistants, in motor vehicle accident cases. This is the basic, must-have, form in any car or truck negligence case- a checklist of the questions to ask in a deposition of the adverse driver, or at trial.
Generally this form will also be suitable as the basis for deposing the passenger in an automobile, or a witness to the accident. (The questions to the driver regarding what the driver did, can be switched to asking what the passenger or witness say the driver did.)
Because it is useful in examining the adverse driver, it will also be a handy checklist to use in witness preparation, preparing your own client or witness to testify. (After all, if these are things a good lawyer will ask the adverse driver, shouldn't your client be prepared to deal with these questions?) Read more »
In every bodily injury or death that involves an auto, truck, motorcycle, or highway pedestrian accident there is a police officer involved. Our deposition checklist is not only also a pattern interview checklist — it is also a trial testimony checklist. Read more »
Whether you represent plaintiff or defendant, when you take the deposition of the adverse driver, or of a passenger, you should consider including a demand that certain items be brought to the motor vehicle accident deposition by the adverse party. Make this little $6.50 form a standard routine. It's an example of why we say that our forms are like having a mentor in a box. Read more »
For witnesses who were not riding in a vehicle involved in the motor vehicle accident (MVA), but who saw the occurrence or events leading up to it. And for witnesses who arrived only after the crash, including ambulance, fire, and tow truck personnel. Read more »
This is specialized for only plaintiffs in rear-end motor vehicle cases. It is a suggested demand for admissions that puts the pressure on the defense. Good ideas for an inexpensive price. Before you take the depo of the adverse driver, if you represent a occupant of a car that was rear-ended, you probably want our Plaintiff's Request for Admissions, Rear-End MVA. Read more »
This checklist is designed for the depositions of either a truck driver or the defendant company's executive, when the deposition is to establish the Company was in control of the Driver at the time of the MVA. An adjunct to the above Driver Deposition Checklist. Used by plaintiff's attorney for questioning. Used by defendant's attorney in preparing the defense witness for a deposition or cross-examination. When a truck is involved, use Checklist – Deposition of Truck Driver to Show Company Control of Driver Read more »
This laundry list form has the specifications you need to give notice of the deposition of an organization regarding its auto or truck driver, and gather all the relevant documents during that deposition. If you get the checklist for the deposition of the truck driver, you probably also want this notice of deposition. Read more »
This is the form to give your investigator or client in every motor vehicle accident case in your office. The approximate 24 photos you need in every MVA case. Photo Assignment Checklist. Read more »
This copyrighted Plaintiff's Initial Spoliation Letter to Truck Company is so powerful, even experienced truck company risk management officers will know you are organized and loaded for action. Read more »
---
If you are a lawyer or legal assistant with a car, truck, or auto – pedestrian highway accident, these MVA forms will give you the benefits of:
proven forms and checklists,
organization in your depositions and trials,
time saving, cost cutting, methods,
checklists to prevent omissions, and
new ideas to improve your success ratio.
All The Best,



Leonard Bucklin, Civil Trial Attorney
All our forms and books are delivered electronically to you in PDF format. All you need to read, print, or copy and paste into your word processor is Adobe Acrobat Reader, which is free. (And you probably have it already!)
The deposition question outlines in this area of the product catalog are applicable to the depositions and witness preparation of the driver, his/her employer, investigating police officers, passengers, and witnesses in car, auto, truck, and motorcycle accidents.