ESI – Electronic Info Forms, Discovery, Depositions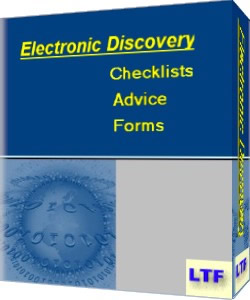 Lawyer-Built, Lawyer-Friendly Electronic Data Deposition and Litigation Tools
ESI Deposition Question Outline Checklists, Litigation Hold Letters, and Usable e-Evidence Techniques.
Experience more ways to make your electronic document discovery and litigation easier.
Now you can save hours of time. Use available superior litigation hold letters, deposition outlines and trial questions checklist forms, and mentoring tips involving electronically stored data.
E-discovery is easier and better if you start with forms developed by LawyerTrialForms™. Deposition outline checklists, litigation hold preservation letters, and usable e-evidence tips for electronic data discovery preparation, depositions, and e-evidence in litigation, and more. Battle-tested tips, forms, and ESI (electronically stored information) e-discovery / e-data tools. Experience even more ways to make ESI litigation easier.
Tell your litigation clients their obligations to preserve evidence, including electronic evidence. Designed to give a psychologically effective path to communicate the serious nature of the client's obligation to preserve evidence, this letter guides clients so they do not make critical – but common – mistakes. A three page single spaced letter of client advice. Don't be accused by the judge of failure to preserve evidence! Read more »
This is a three page checklist form letter to use in demanding evidence preservation. It's an important letter in today's e-data and metadata litigation, where an e-mail may be critical. The suggestions these separate demands make in the letter will lead you to think clearly on what may be available to you if you use e-discovery to find electronically stored information, including the meta data. Read more »
The federal and most court rules require you to meet the adverse counsel and report what you have done in forming a plan for e-discovery. This checklist style report allows you to sit down with adverse counsel and stand up later with your form report check marked and ready to use for your report to the court. Read more »
Be relaxed during e-document disclosures. Don't waive your client's privilege or your work-product protection by inadvertently producing a protected document when you turn over either paper or electronically produced information during discovery. Today's rules provide for clawback agreements to protect your client — and you! But you need to have your agreement with counsel incorporated into a court order, to avoid some real problems down the road. Do not waste time drafting when our four page discussion of law and four page form propels you to a finished document in a few minutes. Read more »
You have learned to love checklist outlines for deposing the substantive fact witnesses. This outline of questions to ask the adverse party's "computer person" has all the same advantages Designed for an attorney taking the deposition of a corporate employee or officer in regard to the electronic records of the corporation, but equally valuable if you are the responding attorney (As responding counsel use this checklist t for preparation of your client witness who is being deposed, to assure that you and your witness have thought about the items likely to be asked). Read more »
A court or a discovery device may allow inspection of a computer or other ESI device. You must then proceed to decide upon the mechanics of who is to operate the ESI device and how it is to be done, and who is to be present. The on-site mechanics needs to be agreed upon, If there is an on-site inspection of either your client's or the adverse parties ESI devices — you need to meet with the adverse attorney and your IT (information technology) person to arrange the "what we will do on site" details of the inspection protocol. This protocol checklist from helps settle the details that prevent nasty and time-consuming arguments when the inspecting party arrives on premises to inspect for ESI (electronically stored information). Read more »
There is a lot to consider when you suggest a joint expert do an examination of computers, retrieve data, and thereafter report what is in the computer. This legal form is the place to start drafting a first-class agreement (or proposed order) for an expert to examine computers and report the contents. Look at 21 areas of potential disagreement and the resolutions made in this form! Read more »
Immediate forensic imaging of computers may be your best money-saving and the best spoliation-prevention option. Use this form to get imaging of ESI at the start of litigation. You gain a "frozen image" in the hands of an expert who can testify to foundation and chain of custody to the evidence you later find and use from that image. This protocol works whether you are doing the imaging by agreement of the parties, by court order over the objections of the adversary, or by your own directions to your own expert.
(If you want an agreement or order for examination of the contents of the ESI device, searching for keywords or specific documents, and then reporting what is found, see our form #ELEC 4626, noted above.) Read more »
If there already exists a copy or forensic image of Electronically Stored Information — this legal form provides the protocol to discover the contents with with appropriate safeguards for all parties to the litigation. Use it to draft an agreement between counsel or to draft an order to be submitted to the court on a contested motion. Read more »
The forms, checklists, and outlines in this section of the product catalog involve issues of electronic evidence in discovery, litigation, settlement, and trial. The deposition checklists are outlines of questions. The other legal forms in this section are designed as not only checklists of items to do or include, they also serve as mentoring devices in this e-data, e-discovery, e-evidence age. Our vision statement is: "Making Good Lawyers Better". The publisher, editor, and author of the form or article you purchase do not render legal or other professional services. If legal advice is sought, see a lawyer in your own state.